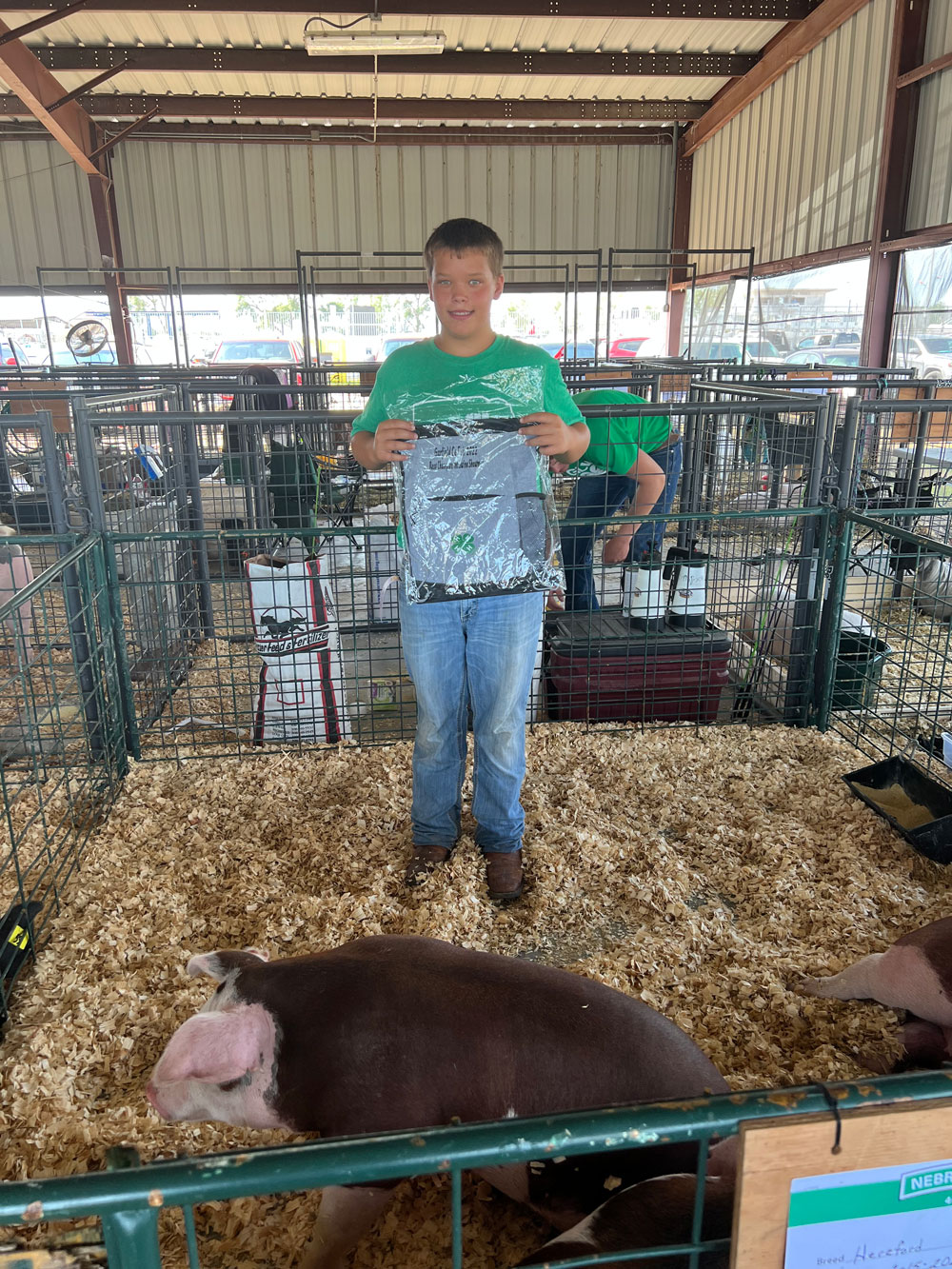 The Garfield County Fair is held in conjunction with Nebraska's Big Rodeo.
Garfield County Fair activities begin on Monday, July 17 and end on Saturday, July, 29, 2023.
See hogs, cattle, and sheep as well as 4H sewing, small engines, and baking exhibits along with much more!
Join us on Saturday afternoon for the 4-H and FFA Premium auction.  That is where you'll see the best of the best of the livestock produced in Garfield County.
Local youth will showcase their talents throughout the week. Don't miss all the action!
Frank Green with his 4-H Swine project.
NEBRASKA'S BIG RODEO™
&
GARFIELD COUNTY FAIR
2023 Schedule of Events
Monday, July 17, 2023
10 AM…..Horsemanship Miss Burwell /Little Miss Burwell Queen Contest at fairgrounds.
5 PM…..Salad Supper followed by Miss Burwell Rodeo/ Little Miss Burwell Rodeo Style Show & Speeches at Burwell Baptist Church…$12 Admission.  Tickets available at Burwell Floral 
Saturday, July 22, 2023
4:30 PM…..Garfield County Fun Day and Roping & Free BBQ.  At the conclusion of the roping fun day, Introduction of PRCA Cowboys and Cowgirls at the Fairgrounds
Sunday, July 23, 2023
10:30AM….. Pre-Rodeo Church Service at the Congregational Church with lunch following service.
Monday, July 24, 2023
8 AM……Garfield County 4-H Horse Show
Tuesday, July 25, 2023
9 AM ……Breakaway Roping Timed Event Slack
8 AM-12PM …..Open Class Exhibit Entry Day
Wednesday, July 26, 2023
8 AM…..Barrel Racing Slack
10 AM…..4-H Sheep and Goat Show
10 AM-12 PM….Garfield County Museum     (737 H Street)
1 PM-4PM….Garfield County Museum     (737 H Street)
3 PM-8 PM …..4-H Exhibit and Open Class Exhibit Hall Open
5 PM….Commercial, Ag Exhibits & Vendors open on the Midway
5 PM….Carnival Opens
6:30 PM-1 AM…..Bull Pen Beer Garden Open, West Side Beer Garden Open
7:30 PM…..NEBRASKA'S BIG RODEO PERFORMANCE…Kids 12 and Under Free
     Miss Burwell Rodeo and Little Miss Burwell Rodeo Coronation during the rodeo                                             
10 PM-12 AM….FCCLA Teen Dance at the dance pavilion…$5 Admission
Thursday, July 27, 2023
8 AM….. PRCA Steer Roping……$10 Admission
9 AM….GLW District Beef, Sheep, and Goat Show  
10 AM-8 PM….4-H Exhibit and Open Class Exhibit Hall Open
10 AM-12 PM….Garfield County Museum   (737 H Street)
1 PM-4PM….Garfield County Museum Open    (737 H Street) 
2:30 PM-5 PM….DAR Quilt Show, High School Commons Room
5 PM…Commercial, Ag Exhibits & Vendors open on the Midway
5 PM….Carnival Opens
6:30 PM-1 AM…..Bull Pen Beer Garden Open, West Side Beer Garden Open   
7:30 PM…..NEBRASKA'S BIG RODEO PERFORMANCE…Kids 12 and Under Free  
10 PM-1 AM…..Band in Bull Pen Beer Garden
10 PM-12 AM…FCCLA Teen Dance at the dance pavilion….$5 Admission
Friday, July 28, 2023
9 AM….. Timed Event Slack
9 AM-5 PM….DAR Quilt Show, High School Commons Room
10 AM…..Garfield Count Swine & Beef Show
10 AM-8 PM….4-H Exhibit and Open Class Exhibit Hall Open
1PM-4 PM….Garfield County Museum   (737 H Street)
2 PM…. Many Moccasins Indian Dance Troupe on the Midway
5 PM…..Many Moccasins Indian Dance Troupe on the Midway
5 PM…..Commercial, Ag Exhibits & Vendors open on the Midway
5 PM…..Carnival Opens
6:30 PM…..4-H Parade of Champions
6:30 PM-1 AM…..Bull Pen Beer Garden Open, West Side Garden Open
7:30 PM …..NEBRASKA'S BIG RODEO PERFORMANCE  
10 PM-1 AM…..Pioneer Band in Bull Pen Beer Garden                 
10 PM-1AM….FCCLA Teen Dance at dance pavilion….. $5 Admission    
Saturday, July 29, 2023
10AM….Garfield County Fair and Rodeo Parade in downtown Burwell,
to enter call the Chamber of Commerce at  308-346-5210
11 AM-2 PM….DAR Quilt Show, High School Commons Room
1PM-4 PM….Garfield County Museum     (737 H Street)
1 PM….Nebraska's Little Rodeo, no admission charge


Each Event $5.00 Entry Fee
Entries are taken from 12:30 to1:00 p.m. with the rodeo to follow.
Each child will need to have an adult sign a waiver and entry form
Sheep Riding, ages 0 to 6
Calf Scramble, ages 0 to 9
Calf Riding, ages 7- 9
Steer Riding, ages 10- 12
Cash prizes will be awarded…Questions call 308-346-4106
1 PM-7PM….4-H Exhibit and Open Class Exhibit Hall Open
4 PM…..4-H Livestock Premium Auction
4 PM…… Catholic Mass in the West Grandstands 
        5 PM….Commercial, Ag Exhibits & Vendors open on the Midway
5 PM…. Carnival Opens
6:30 PM-1 AM…Bull Pen Beer Garden Open, West Side Beer Garden Open
7:30 PM…..NEBRASKA'S BIG RODEO PERFORMANCE  
10 PM-1AM ….Pioneer Band in Bull Pen Beer Garden
10 PM-1AM….FCCLA Teen Dance at dance pavilion…… $5 Admission    
Sunday, July 20, 2023
10 AM….Cowboy Church in the Grand Stands at the Fairgrounds
Tentative Trolley Schedule: 
Wednesday July 27……5PM—11 PM
Thursday July 28………5PM—1:30 PM
Friday July 29…………4PM—1:30 AM
Saturday July 30……….2 PM—1:30 AM
SEE YOU NEXT YEAR…
NEBRASKA'S BIG RODEO™— July 24-27, 2024