Rodeo Announcer – Travis Schauda
Travis has announced events in 14 states.  Some events include, Oregon Trail PRCA Rodeo in Hastings NE, Days of 56 Rodeo in Ponca NE, Casey Tibbs Memorial Extreme Broncs in Ft. Pierre SD, Beef Empire Days in Garden City KS, Wahoo Saddle Club PRCA Rodeo, Sioux Empire Days in Sioux Falls SD.  Other events in Glenwood City WI, Marshall MN, Cherokee IA, Aberdeen SD, Steamboat Springs CO, Extreme Broncs in Herried SD, PCB finals in Chicago IL.  His mentor in the early years was Hadley Barrett; Hadley was the announcer at NBR for several years.
Travis and his wife Amy have three children, Lindsay, Jace and Ashlyn.  They live inBroken Bow NE.
Fun fact: Travis's grandpa, Tommy Loughran, won the JR steer riding in 1929 at Nebraska's Big Rodeo when he was 12 years old.
"Being from Nebraska and raised in the shadows of this great rodeo it has always been a dream of mine to announce this legendary rodeo. Burwell is special and different from all the 600 plus rodeos in the PRCA. It has been neat to watch this past century of growth for this great rodeo and I look forward to helping it grow to an even more legendary status! I can't wait to see you all in Burwell."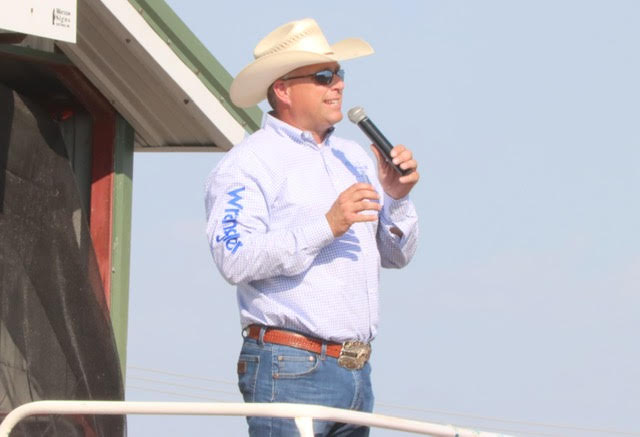 Justin Rumford – Barrelman
Nebraska's Big Rodeo is proud to announce the return of Burwell fan favorite and 10-time Professional Rodeo Cowboys Association Clown of the Year, Justin Rumford of Ponca City, Oklahoma. 
A third-generation rodeo cowboy, Rumford grew up in Abbyville, Kansas, and competed in high school, college and professional rodeo before an injury moved him into the barrel. 
A natural at making people laugh, today Justin travels coast to coast entertaining rodeo fans and providing his barrel as an oasis of safety for clowns and cowboys. 
Coors Man in the Can – 2013, 2015 & 2018
PRCA Comedy Act of the Year – 2018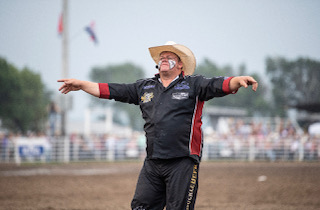 Bullfighter – Weston Rutkowski
Date of Birth: May 10, 1989
Hometown: Haskell, Texas
Affiliation: PRCA, PBR
Sponsors: MPR Hunts, Catalena Hatters, American Born Moonshine, Prohet Muskwa Outfitters, Bullfighters Only
– 2013 NFR Bucking Stock Sale Champion
– 2013 World Champion Freestyle Bullfighter
– 2014 Bulls of the West Freestyle Champion
– 2013 Revenge of The Bulls Champion – Ardmore, OK
– 2015 National Western Bullfight Champion – Denver, CO
– 2015 Rodeo Austin Bullfighter
Weston Rutkowski is a 3rd generation Rodeo Cowboy hailing from Haskell, TX where he grew up watching his uncles compete as Professional Saddle Bronc Riders. They were his heroes and from that point on he wanted to grow up to be just like them. Weston's fascination with bulls led him to try bull riding in college, but he never felt up to par. When Weston's friend Clint Hopping asked him to protect him in practice, Weston went for it. What happened next he said, "just felt natural".
Weston's hard work and dedication led him to win the title of 2013 World Champion Freestyle Bullfighter, but it's just the beginning for him. Weston credits his commitment to working out every day and stay physically fit that allows him to get around bulls the way he does. Weston says bullfighting is a mental challenge. "You've gotta be strong enough mentally to overcome your fear of what could happen and get out there and just do your job."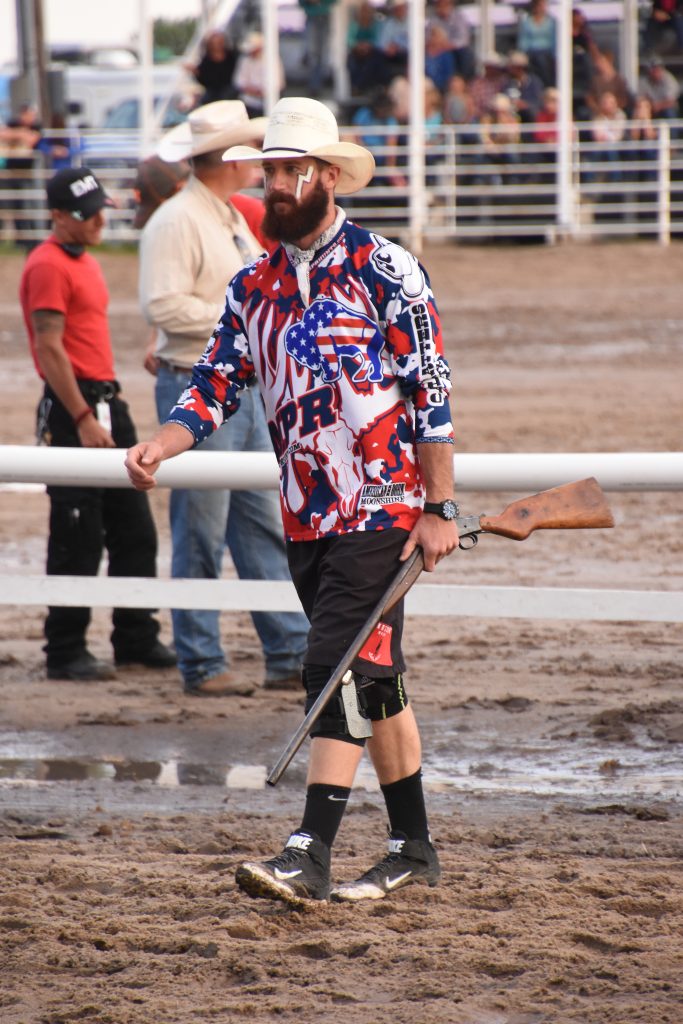 Bullfighter – Noah Krepps
From their distinct baggies to colorful face paint, bullfighters have a very important job as cowboy protectors. 
Nebraska's Big Rodeo welcomes the return of Noah Krepps in 2023. 
Noah was discovered in 2016 and was immediately signed to 3-time World Champion, Evan Allard's  professional bullfighting team, Team Hookin A Ranch.
As the Arkansas native continues to climb the ranks, he is looking to leave his legacy on the rodeo world.   
2017 American Bullfighting Champion
ABF Finals World Champion 2017 & 2019